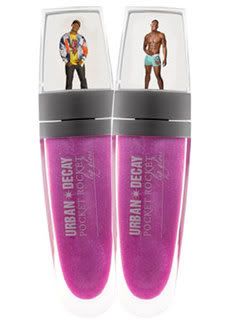 Urban Decay Pocket Rocket in
Doug
$19
(sheer medium pink with iridescent sparkle)
What It Does:
Urban Decay Pocket Rocket Lip Gloss combines a girl's two favorite things: guys and gloss! With the tilt of a tube, your well-dressed man will be stripped to his undies. The crème-brulee-scented formula slicks and shines your lips to pucker perfection, with each highly pigmented shade varying in opacity and finish. It also contains Hyaluronic Spheres that are known to improve cellular function, prevent dehydration, and fill in lines and wrinkles.
Overall:
This is the coolest lip gloss I have ever owned! Now, who doesn't want to see a hot guy every time you put on your gloss (ahem...I do)?! Most people don't enjoy the crème-brulee smell or taste, but it doesn't bother me. The consistency is thick, but not as sticky as most lip gloss's. Also, it's very convenient to carry and can fit in your back pocket.
Have you tried any of the Pocket Rockets? Which ones are your favorite?